Whether you want to travel and gain education or work experience in the US, a J1 visa is one of the most ideal ways to help you achieve your American dream. The J1 visa provides opportunities for those who want to participate in an exchange visitor program. If you are interested in the exchange program and want to apply for a J1 visa, here's everything you need to know about the J1 visa and the program you can apply for.
What is J1 visa?
J1 visa is an internship program issued by the US government and is sponsored by well-known non-profit organizations in America.
This program is available for students or for those hoping to gain real-world professional experience, improve their professional skill set, improve their English level, and experience different cultures in America for 12 to 18 months.
Facts about J1 visa
The J1 visa was created in 1961 to strengthen international ties and engage participants in the US society and culture.
Every year, there are over 300,000 international applicants from various nations who train in the US with the J1 visa. The training and development that the J1 internship provides align with the experience and skill set of each applicant.
About 86 percent of them are 30 years old and younger.
Qualifications for J1 visa
To Qualify, all J1 applicants are required to meet these following criteria:
Sponsored through a university, private organization or government program selected by the US Department of State
Engaged in interview, consultation, training or demonstration of special skills 
Protected with adequate health insurance
Proficient in the English language
J1 Visa programs
There are 14 different Exchange Visitor Programs that the applicant can apply under the J1 visa.
Program
Basic Requirement
Benefits
Duration
Au Pair

English ProficiencyHigh Scholl Diploma (or equivalent)

18-26 years old

Background check

Professional Training

Childcare Experience

Compensation

School Credit

1 to 2 years
Camp Counselor

English Proficiency

At least 18 years old

Background check

Pay and Benefits

Food and Lodging

4 months
College and University
Student

Must be substantially financed

For non-degree programs: Must be enrolled full-time in a prescribed course of study for of study for up to 2 years

Training

Employment

School Credit

Bachelor/masterDegree: 18 months

Non-degree: 24 months

Post-Doctoral: 36 months

Government Visitor
Must be selected by a US federal state, or local government agency; Influential or a distinguished person; Engaged in Official Government activities
Professional Training
18 months
Internship
Must be enrolled in a foreign-post secondary institution that grants degrees;Graduated within the past year

Practical work experience

School credit

1 year
Trainee
Degree or Professional Certificate from foreign college or university At least one year of work experience outside the USFive years of work experience in particular field
Practical and Professional Experience

Agriculture, Hospitality: 12 months

Others: 18 months

International Visitor
Must be selected by the US Department of State; A leader in a specific field; and Engaged in consultation, observation, research, training or demonstration of skills
Cross-Cultural Understanding
1 year
Alien Physician

English proficiency

Adequate Prior Education and TrainingSuitable Background to the Program Statement of Need (for Medical Expertise)

Agreement from US Medical School Various Test Requirements

School Credit

Medical Training

7 years maximum
Professor and Research Scholar
Must not be a candidate for tenure; Not participated in this program in the past 2 years; and Not participated in a J1 Program in the past year
Educational Enrichment
3 weeks to 5 years
Secondary School Student

At least 15 years old but not more than 18 ½ years old

Completed no more than 11 years of primary and secondary school

Have not participated in a US exchange student program 

Extracurricular ExperiencesAccommodation 
1 year
Short-Term Scholar
Must be a professor's, researcher, graduate student or someone with other related profession 
Educational Enrichment
6 months
Specialist

Must be an expert in a specific field;Seek to travel to the US for the purpose of interchange of knowledge and skills

Not fill a permanent or long-term position of employment while in the US 

Educational Enrichment
1 year
Summer Work & Travel

English Proficiency

Full-time enrollment in a college/university outside the US with at least one semester completed

Placement in a seasonal job 

Live and work in the US
4 months
WICC's Programs
Currently, WICC offers the Paid Internship/Training Program in the US. Therefore, we will focus on the Requirement, Process, Benefits, and other things related to Intern and Training Programs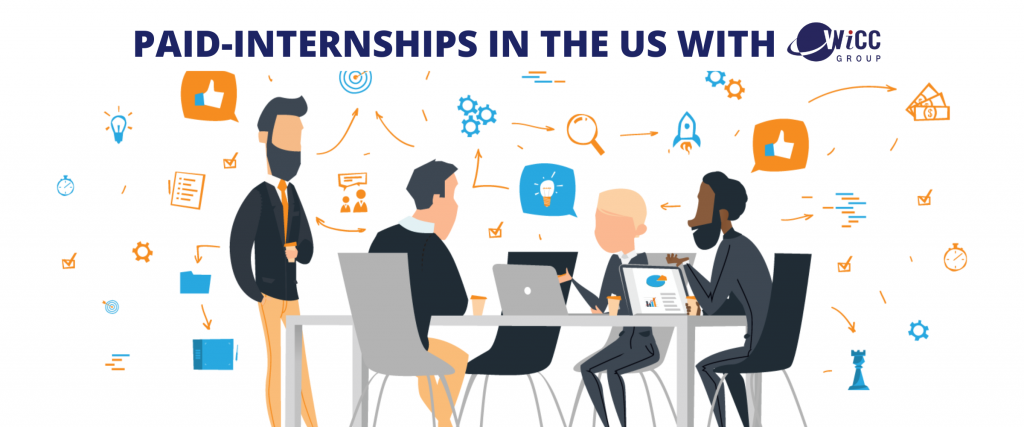 Requirements for J1 Internship/Training Program
College/University students or recent graduates (within the past year) with no experience in the field of study
College/University graduates with at least one year of training/experience related to major
Professional with up to 5 years of experience in the desired field (if the desired field differs from Degree earned)
Potential Fields of Training
Business Administration, Trade, Finance, Banking, Marketing, Production, Accounting
Sciences, Engineering, Mathematics, and Industrial Occupations
Multimedia, Communication, IT
Hospitality, Tourism
Architecture, Graphic Design, Fashion Design, Art & Culture
Processing
Step 1: Participant evaluation
WICC will evaluation the applicant's resume and English level through an online interview
Step 2: Job Matching
WICC will job match for each applicant and arrange the interview for applicants with potential Host Companies
Step 3: Prepare Necessary Documents
After being accepted, WICC will help support the program sponsor organization and the applicants in the process of preparing necessary documents
Step 4: Application Review
All documents will be sent to the program sponsor organization to be reviewed. Once approved, the DS-2019 package will be sent out
Step 5: Visa interview with US Embassy
Applicants must bring the necessary documents required to the Visa interview at the US Embassy in Vietnam
Step 6: Arrival in the US
WICC will provide support during housing search and other processes until the completion of the program
Why you should choose WICC Group?
Committed to providing employment
WICC Group guarantees the applicant a training position that best suits the participant's abilities and desires. We are committed to providing a position at a reputable company in the US.
Team of experienced consultants
Our team of experienced team members will help guide you step-by-step in the process of preparing the application, arrange and prepare for the Host Company interview, and provide support during the Visa application process.
Provide Best Care for Customers
WICC will provide support in the process of searching and arranging housing and will guarantee the safety and security of housing locations in the US. Additionally, we guarantee the safety and security of each applicant throughout the duration of the program. We will provide our unconditional support from the start of the program to the end of the program.
Got other questions about securing a J1 Visa? Contact our consultants so we can assist you further.
To have more information about Paid Internship/Training opportunities, book an appointment to receive free consulting today.