CPT Overview
Within the large market of the US, the CPT Program allows you to enroll in a nonprofit graduate University at a low tuition rate. Through this program, you are able to receive a master's degree in business and have the opportunity to participate in a paid internship through the job matching services that WICC Group provides. By participating in this program, you will become an important member of society during this era of globalization.
While enrolled as a graduate student, you will gain real work experience at an internship directly related to your major and receive the necessary training to help further your future career.
You will be able to experience the American culture and office system while improving your English skills in order to become an active member of society.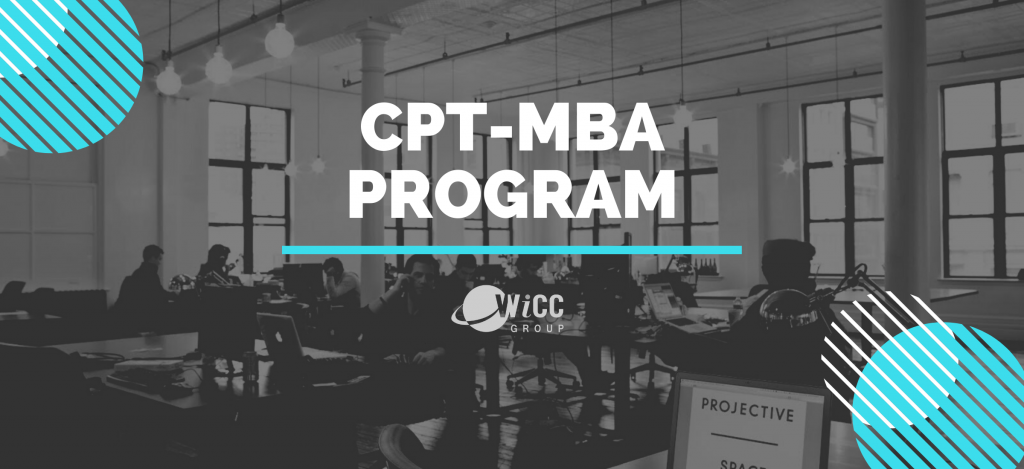 What is the CPT Program that is offered by WICC?
You will be enrolled in an MBA graduate program (tuition: $500/month) that is located in Los Angeles, CA and will attend classes 2 times a week in the evening. This program allows you to simultaneously take classes towards a graduate degree and participate in a paid internship during the day in order to receive relevant training and experience (WICC Group will do the job matching.)
Also, WICC will provide assistance starting from enrollment to universities until US employment placement including housing arrange, airport transfer, and other relevant services.
Requirements
Have a Bachelor's Degree
Must complete or have completed one of the following requirements:

TOEFL iBT 61 points or higher

Proof of enrollment or transcript demonstrating at least one full year of study in either ESL course, high school or university

Pass an online English test in two categories Reading and Listening with a score of at least "Advanced Low"
Advantages of WICC Group's CPT Program
Working while earning your degree
While enrolled in the graduate program, students can take 2 classes per quarter (8 units) while simultaneously participating in a paid internship.
Can transfer to another company freely
With the H1B employment visa, you cannot freely choose a company to work at and it would be difficult to transfer to a different company. However, the CPT program allows you to transfer to a different company at any time.
Affordable MBA tuition cost
With the total tuition fee of $11,000 for 2 years, this program is considered one of the most affordable MBA programs for international students in the US.
Receive training an US-based companies
At the end of the applicant's first year, applicants can work legally in any US-based companies and corporations as a fulltime employee. They will receive training from senior managers at the host company where they work, and at the same time gain the experiences from their co-workers.
Improve English skills while working in the professional environment
While participating in the CPT Program, applicants will be interned or trained in the US-based companies where they have to use English for work. This will help interns or trainees improve their English skills significantly.
Increase the chance of getting the Green card
In the United States, foreign individuals with a Master's degree (from an accredited University) are good candidates to receive the EB2 green card which is faster and easier to receive compared to individuals with only a Bachelor's degree.
Process
Apply
Consultation
Apply for University
Visa Issuance
Entry to the US
Job matching with US company
Internship
Required documents for Program Admission
Completed application form
Graduate certificate and transcript from University (English version and Original version)
Personal Statement
Bank statement showing at least $15,000
Copy of your passport
Copy of front and back or credit card (for payment of Admission fee)
*If you have a companion (spouse or children) upon entry into the US, additional documents may be required.
Required Documents for Embassy Interview
Original passport
Visa photo: 5×5, white background
Bank Statement showing at least $15,000
Financial Guarantor: Parent, spouse or yourself
Family relation certificate
Tax-related documents
DS-Confirmation
Original receipt for $160 Visa Application Fee
Certificate of enrollment, transcript, degree or other relevant documents
Are you ready to come to the US, earning some money while working towards your MBA degree? Or do you have a question regarding our CPT program? Or You simply just want to say hi?
No matter the reason you have, contact us!