Resume is really important to secure a job. Yes, you don't need anyone to tell you how critical resume is. It describes your qualifications for a recruiter and can be a ticket which leads you to your dream job. Because of all of that, you definitely want to have an excellent one, not a messy, outdated, or hard-to-read resume.
"Not Fun" Fact: Recruiters spend an average of six seconds reviewing an individual resume (No pressure! 😩 )
So, with that in mind, you may wonder how you should create a resume that impressive your recruiters during that 6 seconds, and probably interested enough to have their eyes on your paper a bit longer. Are you planning to wrap up your 2020 strong (hopefully)? Let us help you with our best advice for how to create a resume that stands out and eventually earn you a job interview.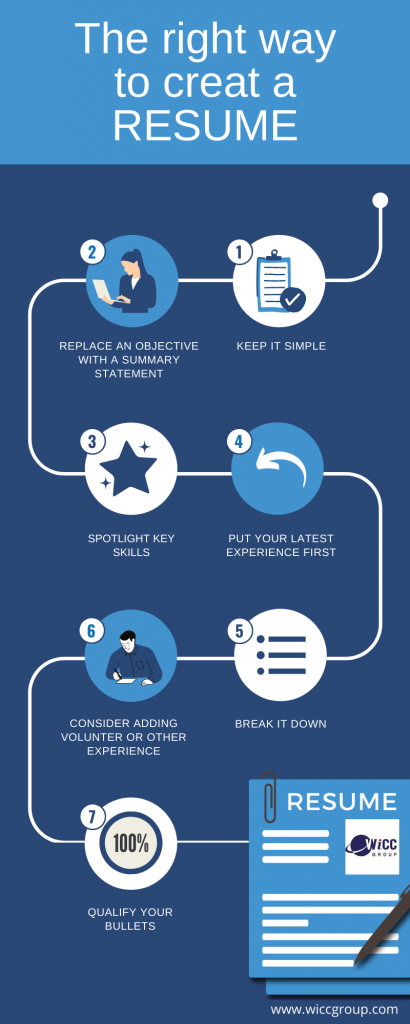 Keep It Simple
Imagine what you are going to do for only 6 seconds with one piece of paper. You probably skim it pretty fast, don't you? The same thing apply for recruiters. Therefore, keep it simple and easy to read.
– Use clear section headings:
You can make them stand out with bold type, capital letters, or a different color. However, try not to turn your resume into mixing color palette unless you're applying for a design position. Remember the key factor here: be professional.
– Make sure there is plenty of white space
Do not overstuff your resume because it's hard to read.
– Skip the fancy graphics
You don't need all of that to impress your future employers. In case you want to show your hard works, prepare your stunning portfolio instead.
Replace an Objective with a Summary Statement
If you still have your objective, which tells the recruiters what you want, on your resume, then you should replace it with a summary statement where it explains what you can bring to the company. Can you see the difference?
Spotlight Key Skills
The main purpose of recruiting is not seeking for the best candidate ever but looking for the right person for a certain position. Therefore, you want to read the job description carefully and then make sure the skills, programs, and keywords you put on your resume match the requirements in the job description.
Put Your Latest Experience First
There are several ways to arrange your experience, but recruiters still prefer the traditional reserve chronological format. Don't upset them, really!
Break it Down
Don't write a paragraph since the recruiters don't have time for all of that. Instead, list your accomplishments and responsibilities in bullets points. Also, remember to start each of those bullet points with a strong active verb, for example: led, handled, managed, responsible for…
Consider Adding Volunteer or Other Experience
One way to help you highlight transferable skills and add a touch of your personality is listing volunteer work or other interests. Remember the key: professional and do not overstuffed.
Qualify Your Bullets
Add numbers and results to your bullet points, wherever possible, to show the impact you had in a role. Some questions you can consider answer while adding those number even if you weren't in a numbers-oriented role: How big was your team? How many people used your product? How frequently did you do a task?
Use these tips to get your resume ready and get yourself that much closer to the job you always dream about.
Wait, you have an impressive resume and still don't know how to slay an job interview, Check these out and Good luck!